Is it possible to sell well in a weak economy? We say yes! And we've got 3 simple tweaks you can make to keep showing up in integrity, serve people with your amazing work and continue to sell well…
TUNE-IN: APPLE PODCASTS | SPOTIFY | GOOGLE PLAY
Things You'll Learn in this Episode of Doing it Online:
The most common mistakes people make when the economy freezes (+ how to avoid them!)

How a small adjustment to your pricing can have a big impact on your sales!

The difference between a refund policy and a guarantee and which one is going to help your business AND your potential buyers…
So. Big surprise, the economy isn't amazing right now. So, instead of eating your weight's worth in peanut butter, what other kind of productive things can you do about it? 
Well, this episode is bringing you 3 simple things you can do, that don't mean starting from scratch or costing you precious hours. We're talking small, simple and effective tweaks to make more sales in a c**p economy. 
And remember, these notes are just skimming the surface, to deep-dive into all the nerdy goodness, make sure you listen to the full episode! 
[Ding!]
Wait, did you hear that? That means it's time for a…
Kate caveat:
Firstly, before you have a go at any of these suggestions, please make sure you're staying in integrity. Everything you do, the way you sell, the way you show up, the way you market, the way you create offers, they should all feel great to you and to your potential client.
It's never about tricking people out of money they don't have, for something they don't need. What we're talking about here is simply helping to remove some of the risk for people, and still be profitable for you.  
Ok! Now that we've got that out of the way, let's have a look at some of the most common mistakes people make when their sales start to slow…
Mistakes people make when sales slow down…
Mistake #1 – They stop investing in their marketing…
The marketing budget is usually the first thing to get slashed right back. And yes, it would feel good to have that money not going out anymore, but while it might feel good for the moment, it's not going to help you out long-term. Because a few months down the track, your sales are going to dip even further as people that need your help then, won't have had the opportunity to hear about you.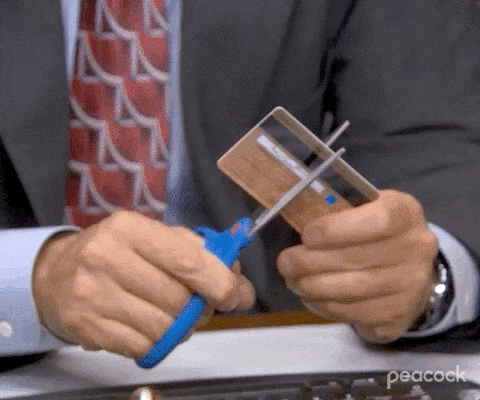 This is why one of the principles we teach inside eCourse Empire is how to get your marketing to pay for itself. 
Maybe you're only relying on organic traffic right now, rather than paid ads, but you're feeling bad about selling in uncertain times? If that's the case, go read over some of your client wins and testimonials and remind yourself of the value you're putting out into the world. 
Don't hide, and don't stop showing up in whatever way you are marketing right now. 
Mistake #2 – They pivot too late
The second mistake I see people make when sales start to slow, is that they freeze. They don't look at their options for adapting or pivoting and making things work for the economy and marketing as it is now. They freeze and wait and hope it'll just go back to the way it was. 
If that feels like you, I want to encourage you that that's one of the amazing things about being a small business. We're not behemoths that need 90 day roadmaps to implement small changes. We can adapt today and see the impact of those changes tomorrow.
Mistake #3 – they create something totally new!
And this is where things swing the other way, because the third mistake that's super common is when people go and create something new altogether. They throw out what they have because they think it's not working anymore and start from scratch. 
So, yes, we're talking about making changes, but small tweaks and pivots. 
How do you know if it's a big change or a small one? Whatever you do, come back to your big vision, (we plan it out together inside eCourse Empire + map out your biz dreams and biz deal-breakers) and make sure whatever changes you make are still taking you where you want to go.
Ok! Now onto the fun stuff…
Simple tweaks you can make to sell well in a weak economy…
Selling in a weak economy, tweak #1: Add a guarantee
In uncertain times, people are super risk-averse. So this first tweak is about removing some of the risk people feel when it comes to investing in your program or offers, without it being detrimental to your business. 
Adding a guarantee is a great way to do this. Now, a guarantee is different to a refund policy. 
We don't believe in or offer a refund policy for our programs as they are so high-touch and we can't get a refund on our time! 
But the guarantee is different. It's offered to people with a set of conditions that both business owner and buyer have to meet. 
I go into a practical example of this in the episode of what this looks like in action, so make sure you give that a listen! 
Selling in a weak economy, tweak
#2 – Restructure your pricing
A simple step but super effective strategy I learned from Taki Moore, is to restructure your pricing. 
You've got a few options to play with when it comes to restructuring your pricing, for example you could:
Add an extended payment plan…

Staggered or tiered pricing…
I go into more details in the episode for these 2 options, but there's no right or wrong answer here, it's about testing what works for your market. Just have a think about your audience and what is a number that they can more easily afford at that moment. 
When you do this, make sure the overall amount is higher though, so you are able to cover the extra cost of business to do this. 
Selling in a weak economy, tweak
#3 – Make more offers 
This one is so simple it hurts. To make more sales in an economy like this one, you need to be making more offers…
Which means showing up to your audience on social media, on your list and inviting people to the work you have created for them. 
This isn't about the all-singing, all-dancing (all-stressful!) launches, we're talking about making frequent smaller, or micro offers. 
It's part of our Micro Marketing Matrix that we teach inside eCourse Empire, where we break it down for what to share each day. It's not too time intensive and it means you can literally be making an offer to your audience every single day. 
More offers = more sales, funnily enough!
And if you had to choose just one?
Please choose #3. Just show up + make those offers!
DM us over on Instagram + let us know which one of these you're going to try,  we love to hear from you! 
And if you haven't already, check out last week's episode where we talk about how + when to raise your prices!
Mentioned