TUNE-IN: APPLE PODCASTS | SPOTIFY | GOOGLE PLAY
Things You'll Learn in this Episode of Doing it Online:
Our fave tech stack and what we recommend for beginners…

My best advice for someone just getting started…

When to hire a VA, how to know if a funnel is right for you and MORE…
It's my birthday this week! Hip hip HOORAY! 
So, to celebrate I thought we would do an 'Ask Kate' episode.
We asked our lovely community for the burning questions they'd love me to answer, and I've pulled together some of my favorites…
So without any further fanfare (I'll save that for all the birthday party celebrations!) 
Let's dive right in…
Q1: What is your current tech stack?
We get asked a LOT what tech do we love and what do we recommend for beginners, so I go through them all in a bit more detail in the episode, but here's an overview of what we currently use: 
Our Go-To's: 
Website and Blog: So we use Showit for our website and keep our blog on WordPress (hosted by Showit).
Email Service: Honestly? We've tried them all. But Active Campaign wins hands down and ticks all the boxes. 
Shopping Cart: ThriveCart 
Courseware: We're currently hosting all of our courses in Kajabi, but we're actually moving to Mighty Networks very soon… (We'll do a whole episode on that for you when we've finished 'The Great Shuffle' of our courses over to MN. So far, it hasn't been as simple as we thought!) Nothing against Kajabi, it just wasn't suiting our needs for how we're wanting to restructure our programs. Again, more on that in an upcoming episode…
Customer Support: Crisp, which allows us to respond to both DM's and emails in the one space. 
Social Media Scheduling: Later
What do we recommend for beginners?
Website: For beginners we still recommend Showit and WordPress as a reliable and beautiful way to get your website up running. This combination will enable you to have all the benefits of having a WordPress blog without all the hassles. 
Email Service:  We recommend Active Campaign to everyone — beginner or advanced. 
Courseware: Podia is a great option for people just getting started. It's cost friendly, looks great and is simple to use. It also has an inbuilt checkout which is great for the basics. If you are wanting to add upsells or downsells then you may need to look at adding a third-party checkout like ThriveCart or SamCart. 
Q2: What is your best advice for someone getting started?
This is a great question. And I have a 2 part answer to this:
Firstly – I would tell them that they're going to need a bigger 'why' than money. 
I would ask them to consider if this business adventure took them 3 years or 5 years to start making money, would they still want to do it? Because realistically, for those first couple of years, they would be paid better staying in their current job. Plus, it would be less work and less stressful. 
And I'm not saying it's not 100% worth it. It is.

But you need to be motivated by something more than money.
Because there will be times when it feels like growing your business is like riding a stationary bike. All that puff and bother without the 'GO.'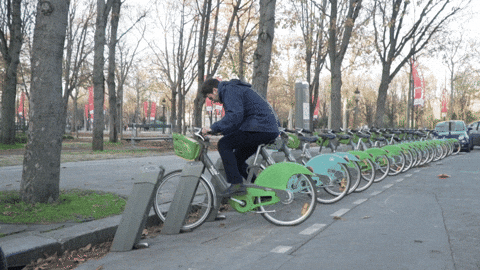 When there's no money coming in to help your efforts feel validated, you'll need another reason to sustain you.
Maybe it's just that you LOVE it. Or you want to help people. Or you have a bigger vision, a bigger dream – all of that is great. 
And that's what can push you through when you're having to make sacrifices and do the hard work…
And if you have that? Then that leads me to the second part of my answer…
…Find someone to help you to kick start it off. 
If you have a job that can help fund you as you're starting, stay there, and use that to help you pay for the help you need to get a coach. Find someone who you look up to who can help mentor you. Don't try and Google and guess work your way around. 
Jump in, invest in a coach and do courses to get you on the fast track so you can move in leaps and bounds faster. 
Q3: "Help Kate, I'm 4 months pregnant and I want to baby-proof my online course, what should I do?"
Great question! I've been there! We actually have a whole episode dedicated to this because I could literally talk about it forever. 
…seriously. 
This episode itself actually kind of turned into a mini episode devoted to this question too. (I can't help it, I'm so passionate about this!)
But the main takeaway right now is that there is a lot you can do. There are so many options and different approaches you can take in your business. And not only have I gone through it, but it's also something we've taken clients through a few times in eCourse Empire. 
We can look at launches, delivery and batch processing social content and email, plus so many other things, so you can be as hands-off as possible while you're getting high on the newborn smell… 
There's a lot of gold in both of these episodes for you:
Episode #92 (above)
Episode #9 My biggest lessons from my first year of business PLUS baby!
Q4: When is the right time to hire a VA?
Usually, the right time is just BEFORE you really, really need them. 
My best advice here is if you're starting to think about it, you're ready. 
I know it can be tricky when you're looking to hire someone and there's a few fears that come in with that. Plus it can be a process to train them up and I know it's not easy. But I'd start as soon as you possibly can, even just 5 hours a week. 
Q5: How do I know if a funnel will work for my business?
I love this question. 
The answer: I've yet to come across someone who a funnel won't work for. If you have an offer that sells, a funnel will work for you.
The question is probably more: which funnel will work for you? And which program is the most funnel-friendly offer that will work the best in a funnel. 
I chat through this more in the episode, because there's a lot of nuance to this.
Everyone's business is different and needs a unique approach to be successful. 
So you should design your business to work for you, your offers and your audience.
But basically, if your offers are selling well then you should start adding in a funnel. Funnels are an asset that can be created when you're just getting started and then they will grow with your business. (As they help your business to grow.) 
Q6: What is your best advice for growing on Instagram if you're starting out today? 
Go back in time to circa 2012 when Instagram was great for business?
[SIGH.] 
We did a whole episode on this the other week on if we even need social media in 2022, so give that a listen. 
My advice is to not spend much time on it unless you love it. The ROI is just not there. If you want to grow, the best way is to create paid ads (into your funnel!) and that will help you grow without having to rely on your organic posts so much. 
Q7: what is working in funnels for 2022? If someone was to create a funnel right now, what kind of funnel would you recommend? 
Well, I love this question and in fact, I love it so much that I've decided to dedicate an entire episode to it and that is gonna be next week. 
So you're just gonna have to hang around for another seven days, come and join me next week!
Hire a Funnel Pro…
If that question about needing a funnel in your business jumped out at you, maybe you'd like some help?
It's a dream come true that we can now recommend someone amazing to come and build your funnels! We have an awesome group of Hello Funnels Certified Funnel Pros who would absolutely love to help you out!
And of course, if you're looking to become a Funnel Pro yourself, we're kicking the next round off again in May. We've already booked out about a third of the spots available, so be snappy!