How can your business be making sales without making sales calls? Is that possible? Heck yes! There's another way that can convert even higher than calls, and be a great experience for both you and your audience…
TUNE-IN: APPLE PODCASTS | SPOTIFY | GOOGLE PLAY
Things You'll Learn in this Episode of Doing it Online:
3-step action plan for getting more sales, without the calls…

A bonus tip on how to be a thank you page ninja 

The chance to grab a seat at my next FREE 90 min coaching session…
Hate sales calls? This is your permission (you didn't ask for and don't actually need) to stop what you're doing and listen to this episode because…
You don't need to make calls in order to make sales of your online courses and programs. 
Mic drop. 
But that's not even the best bit…
Your conversions can be even higher without them. 
That's right, there IS another way! 
Got your attention? Good, let's look at:
The problem with sales calls…
Chances are, if you're here and reading this then don't like doing them. 
And no offence, we love you, but you're probably not very good at them? I mean, you shouldn't have to be! You're not a salesperson (unless you are, and then this ep is not for you!)
Even if you've done some sales training, or that's in your wheel-house, the numbers for sales calls is only around 20-30% for "good" conversion rate, which isn't the best use of your time. 
Speaking of time, that's the other issue, your audience is BUSY. They don't want to add something else to their calendar and attend a sales call.  
So, if you don't like making sales calls, and your audience doesn't like attending sales calls, and they don't actually convert that well…
…why are we still doing them? (Well, we're not. Hello Funnels has never done sales calls. That was on my big deal breakers list when I created this business. It needed to be a sales-calls-free-business. But a lot of people are still doing them.)
And they don't need to be! 
Can you just imagine the time and stress you'd save without them?
And for the icing on the top, be seeing even higher conversions? 
So, how can you enjoy this magic? 
Your call-free action plan below! (This will give you an overview, but I go into way more detail in the episode so make sure you listen to the full ep.)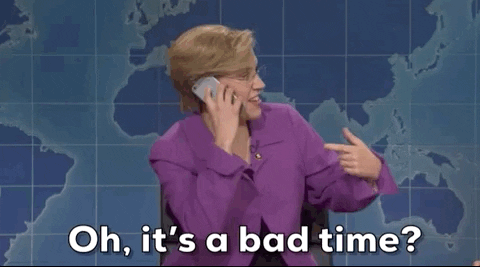 Making sales without making calls…
Sales-call-free step #1: Don't target a needy audience
Before we can jump into the specifics of what you can do instead of sales calls, you're going to need a mindset shift on your part. 
Because in order to make the next part work, you need to move away from targeting a needy audience. A 'needy audience' refers to people that "need" to speak to you in order to make a decision about joining your program. 
If they're being needy at this point, they're sure as heck going to be needy inside your program. 
This might annoy some people, and that's fine. I believe we get to set up our offers and businesses to serve people we love working with, in ways that we enjoy, in something we're really passionate about.  
You don't want to be booked out with students that treat you like Google, you want action-takers, go-getters, and get-it-done-ers. 
And by switching up the way you sell, it's going to help you repel the people who need hand-holding and attract the ones that don't. 
Sales-call-free step #2: Add the RIGHT core funnel for your offer
The next step to get in place is to make sure you have the right funnel for your offer. The main funnels we're talking about here are application, webinar, and self-liquidating offer funnels, but they come into play in ways you wouldn't expect…
This is something that I love mapping out with our members inside eCourse Empire! We work out what kind of offer they want to create, how they want to sell it, how they want to market it, and then with that information we work out which is the best core funnel to support that. 
Here's an extra tip for you that you can action right away: be a thank you page ninja…
How to be a thank you page ninja 
This tip is for your hot leads. (The people who've got their credit cards ready and they're just looking for the 'BUY' button.) 
Depending on the funnel you've chosen, most people will be making a micro-commitment first, so maybe an opt-in, or registering for a webinar etc. So when they see the thank-you page for that first commitment, give them the opportunity to take the next step with you. (Still say thank you, but then offer them something else.)
For example: 
Do you want to apply for [complimentary offer]

Want to get your hands on [offer they can buy]

Join the waitlist…
Etc. 
Make it easy for them to take the next step with you! 
Sales-call-free step #3: Slide into their DM's
I resisted this one for ages. (Which probably means I should have done it immediately.) 
Sliding into DM's doesn't have to be as sleazy as it sounds. (Or at all.) 
As you know, every single piece of content should have a call to action, (CTA). Like, grab this freebie, check out this offer, etc. 
Recently, we've started adding in 'start conversation' as a CTA option. So instead of sending them to a link, we're asking them to DM us that they want the thing, and then we'll flick it to them. 
We teach the same thing to our eCourse Empire members in our Micro Marketing System they get access to inside the program. (Which helps them get the most out of their content without spending a tonne of time or money.) 
And by adding in these conversation opportunities throughout your funnel, it means people feel heard and spoken to, without even having a sales call. (And these aren't even conversations about closing anything, it's just about adding in a human touch-point.) 
Plus guess what? This can be outsourced and scaled, which means we LOVE it. And so does our nerdy fam, because they feel connected and listened to. 
So definitely give this a go and let us know what you think! 
Want more?
Ok, now if reading this has you fist-pumping the air in excitement and you're ready to say 'Bye Fellicia!' to sales calls…
Then you probably also know that you need more, so, there are 2 things you can do:
1. Apply for our next round of eCourse Empire before all the spots are taken. 
OR 
2. You can join me for Evergreen Sales Machine, a free 90 min group coaching session where I'll walk you through the 3 steps you need to make 5 program sales (minimum) EVERY week, without sales calls or stressful launches! (Yep, even if you have a premium offer!) It's LIVE, it's FREE and I can't wait to see you there! 
>> Click here to save your seat!
Mentioned:
eCourse Empire
Evergreen Sales Machine (90-Min group coaching session with Kate)